Fitbit Versa SmartWatch



Make the most of 

every moment
Designed to be your personal wellness and fitness companion, Versa does more than tell the time. It tells you how to make the most of it.
Know yourself, know your health
Personal Fitbit Dashboard From water to workouts, see all your stats, set goals & track progress in the Fitbit app. Sleep Tracking & Stages Track time in light, deep and REM sleep stages & get insights about your night.
Female Health Tracking Turn on female health tracking to log periods, track your cycle & gauge ovulation.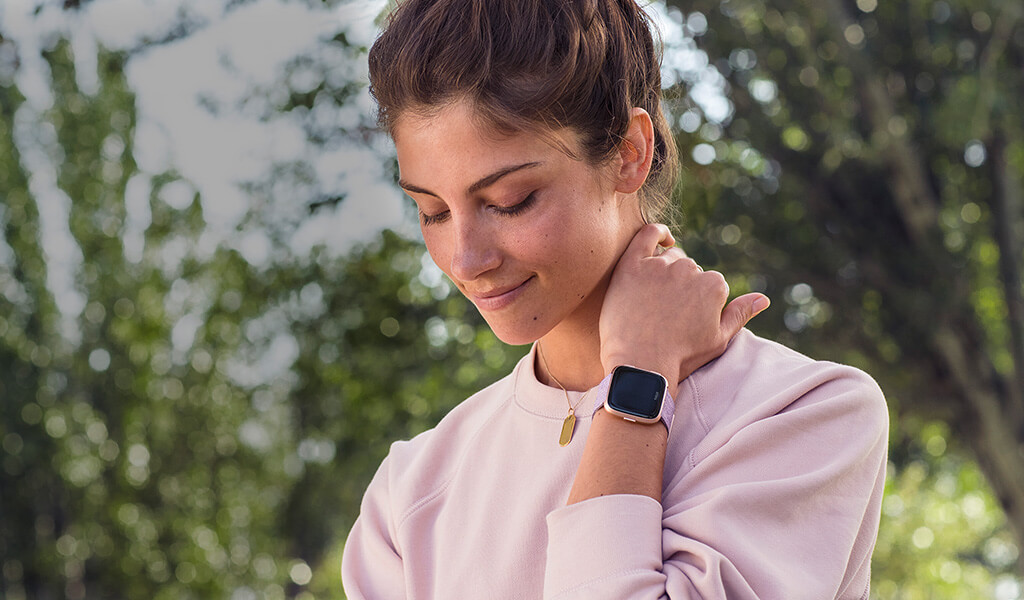 Discover easy ways to improve your day
Fitbit Today See your daily stats and progress, plus personalised insights & goal reminders right on your watch. Reminders To Move Keep moving toward your goals with friendly reminders that encourage you to stay active throughout the day.
Guided Breathing Session Find moments of calm with guided breathing sessions that are personalised based on your heart rate.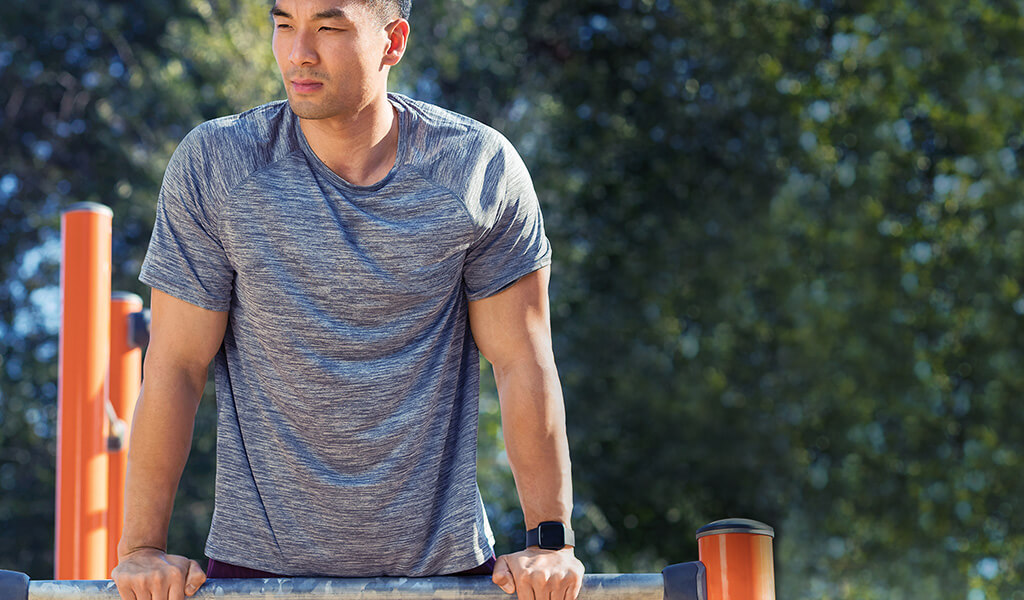 Get guidance to reach your goals
Versa's not just for show, it shows you the way to a more active life with features to help you track workouts, optimise your effort & stay motivated.
PurePulse Heart Rate
Track all-day heart rate, resting heart rate & heart rate zones during workouts.
Personalised Dynamic Coaching
Start personalised workouts on your wrist & get coached through every move.***
15+ Exercise Modes
Use Swim, Run & other modes to see real-time stats while you exercise. Connected GPS
See pace & distance during runs or rides by connecting to your phone's GPS.
Access the smart experiences that matter
Life's about action, not distraction. So use Versa to run your day, streamline your schedule & stay connected to the important stuff.
Everything you need, one swipe away
Store Songs & Deezer Playlists
Download 300+ of your own songs or sync Deezer playlists & play with bluetooth headphones like Fitbit Flyer.† Notifications & Quick Replies
Get call, calendar, text and app alerts.
Send quick replies to messages (Android only).††
Contactless Payments Store and use credit cards right on your watch with Fitbit Pay.
Plus, more ways to make it personal
Apps for Convenience
Download your favourite apps for fitness, finance, sports & more—including apps by developers or from Fitbit Labs. Clock Faces for Any Occasion
Give your screen your style by choosing a new clock face from the Fitbit app or developing your own.
Find Fitbit features you know & love
With long-lasting, 4+ day battery life and compatibility with iPhone, Android & Windows phones, Versa is made for everyone.
There's more inspiration inside the app
Global Community
Join an inspiring fitness community, share articles & add friends to keep you accountable.
Challenges & Adventures
Stay motivated by starting solo step challenges or creating one with friends.
FEATURES
FITBIT TODAY See all your daily stats, plus personalised insights and reminders all in one place.
PUREPULSE® HEART RATE Get continuous heart rate tracking, follow trends over time & see real-time heart rate zones.
AUTOMATIC ACTIVITY & SLEEP TRACKING See steps, distance, calories, floors climbed, active minutes & time in light, deep and REM sleep.
FEMALE HEALTH TRACKING Turn on female health tracking to log periods, track your cycle & gauge ovulation.
GUIDED BREATHING SESSIONS Find moments of calm throughout the day with personalised breathing sessions based on your heart rate.
ON-SCREEN WORKOUTS On-screen workouts give you guidance through every move & adapt based on your feedback.
EXERCISE MODES & CONNECTED GPS Track workouts with 15+ exercise modes & use your smartphone GPS to see real-time pace and distance.
SWIMPROOF Water-resistant to 50M & tracks laps, duration and calories burned during swim workouts.
SMARTTRACK Automatically recognises and records activities like runs, sports & aerobic workouts.
CARDIO FITNESS LEVEL Get a personalised Cardio Fitness Score and tips to improve over time.
STORE AND PLAY MUSIC Store and play 300+ songs on your watch, plus download playlists from Deezer. Deezer paid subscription required.
APPS FOR CONVENIENCE Instantly access your favourite apps for weather, sports and more.
CALL & TEXT ALERTS Get call, calendar, text and app alerts. Send quick replies to messages (Android only).
CONTACTLESS PAYMENTS Built-in NFC chip stores credit cards for use on your smartwatch.
4+ DAY BATTERY Battery of 4+ days lasts day and night without charging. Battery life and charge cycles may vary.
ACCESSORIES & CLOCK FACES Wear Versa your way by changing your clock face & switching the accessory band (sold separately).
PREMIUM DESIGN Bright colour touchscreen & a slim, lightweight anodised aluminum body.
HI-RES TOUCHSCREEN Amplified brightness up to 1000 nits & durable screen made from Corning Gorilla Glass 3.
WIRELESS SYNCING Works with Bluetooth headphones & 200+ leading iOS, Android and Windows devices.
DESIGN & SPECS
WHAT'S INCLUDED: Fitbit Versa Classic wristbands (both small & large) Charging cable
WHAT'S INCLUDED IN SPECIAL EDITION VERSA: Fitbit Versa Woven wristbands (both small & large) Classic black wristbands (both small and large) Charging cable
SENSORS & COMPONENTS 3-axis accelerometer 3-axis gyroscope Optical heart rate monitor Altimeter Ambient light sensor SpO2 sensor Vibration motor Wi-Fi antenna (802.11 b/g/n)
NFC BATTERY AND POWER Fitbit Versa has a battery life of 4+ days. Battery life and charge cycles vary with use, settings, and other factors; actual results will vary. We recommend charging your watch every few days to ensure you are always tracking. Battery type: Lithium-polymer Charge time (0-100%): Two hours Radio transceiver: Bluetooth 4.0 MEMORY Saves 7 days of detailed motion data – minute by minute Saves daily totals for the last 30 days Stores heart rate data at one-second intervals during exercise tracking and at five-second intervals all other times
WATER RESISTANCE Fitbit Versa is water resistant to 50 metres. After swimming or getting the band wet, we recommend drying the band because, as with any wearable device, it's best for your skin if the band is clean and dry. We do not recommend wearing Versa in a hot tub or sauna. Learn more.
CARE If the band gets wet or if you sweat in it, remove and completely dry it before putting it back on. Give your wrist a rest by taking the band off every now and then. Learn more.
MATERIALS The Fitbit Versa classic band is made of a flexible, durable material similar to that used in many sports watches, and includes an aluminum watch case and buckle.
HEART RATE Like all heart rate tracking technologies, accuracy is affected by physiology, location of device and different movements. Learn more about wearing during workouts.
ENVIRONMENTAL REQUIREMENTS Operating temperature: -10° to 60° C Maximum operating altitude: 8,535 m SYNCING Fitbit Versa syncs automatically and wirelessly to computers and 200+ leading iOS, Android & Windows devices using Bluetooth LE wireless technology. Syncing range: Up to 6.1 m Certain features like smartphone notifications may require Android 5.0+. Check your device compatibility. Syncing requires Bluetooth LE and Internet connection. Windows 10 computers that do not have Bluetooth LE will need a wireless sync dongle in order to sync. Syncs with Mac OS X 10.6 and up, iPhone 4S and later, iPad 3 gen. and later, Android 4.3 and later and Windows 10 devices. Music control via Bluetooth Classic on Android and Windows devices. Music control via Bluetooth LE on iOS devices.