V-Moda Crossfade 2 Wireless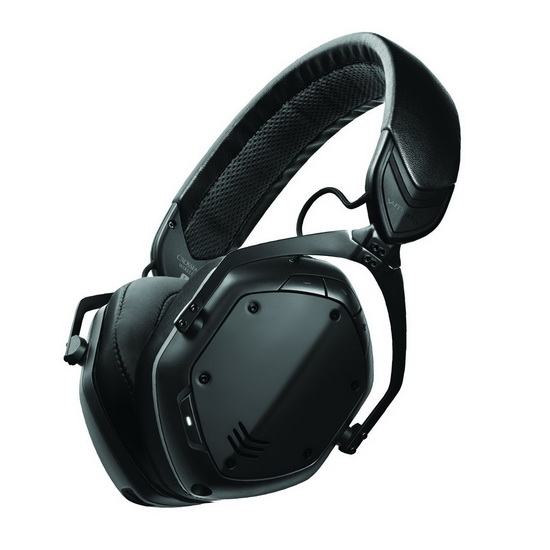 Introducing CROSSFADE 2 WIRELESS. 
We made the "Best Bluetooth Headphones of 2016" better. World-renowned enhanced sound. Supreme Comfort. CliqFold.
 

#1 TRUSTED SOUND REMASTERED + SUPREME COMFORT
"V-MODA's most audiophile friendly headphone...and it's cool because it's wireless" - Head-Fi Founder Jude Mansilla
Master Crafted Materials - Lightweight metal components and more expensive materials than peer headphones at this price range
Certified Hi-Res Audio (wired mode) - Supports super-human frequencies beyond 40kHz with Hi-Res music sources as certified by Japan Audio Society (JAS)
Ultra Clarity & Vivid Midrange - Lifelike vocals, crystal clear cymbals and crispy hi-hats with an ultra hi-res sparkle and velocity
Clean Deep Bass - Feel and hear precise vibrations of your music without bloated boom or muddy mids
Immersive 3D Soundstage - Live performance experience
Instrument Engineer Verified - Hear the sound of drum kits, samples and acoustic instruments the way the instrument engineers and original artists intended
Crossfade 1 Wireless won 8+ Editors' Choice and Best Headphones awards including USA Today's Reviewed.com "2016 Best Bluetooth Headphones". Crossfade 2 Wireless takes it to another level...
50mm Dual-Diaphragm Driver (Patent Pending) - Inner and outer rings separate the bass from bleeding into the mids and highs
Hi-Res CCAW Coil - Engineered and made in Japan for powerful Hi-Res performance
BLISS Large Enhanced Memory Foam Cushions - Unparalleled supple comfort perfected by testing hundreds of prototypes with small variances by V-MODA's CEO for over a year to naturally contour to every ear
Micro VAMP - Legendary V-MODA VAMP AMP/DAC technology condensed
Qualcomm aptX (On Rose Gold version) - State of the art audio codec enables CD-like quality sound over Bluetooth which allows for the best lossless wireless listening experience
Passive Noise Isolation - Naturally cut the distractions of jet engines and unwanted noise without the hiss and pressure of Active Noise Canceling (ANC)
Minimal Sound Leakage - Immersive 3D sound for you without bothering others
Crystal Clear Communication - Hidden mic and included 1-Button SpeakEasy™ cable allows calls on-the-go, at the office or gaming
Consistent Driver Quality - Quality tested at 6 frequencies for stricter consistency than the competition, often by an order of magnitude
5+ Years of Comfort R&D - Ergonomic headband based and patent-pending hexagon shape minimizes force on your head, ears and gap for the best fit
WIRELESS FREEDOM + WIRED 0-LATENCY
Hybrid Wireless + Wired - Enjoy the best of 2 worlds: virtually identical sound in wireless for freedom, wired when you run out of juice
Wired Hi-Res Audio Zero Latency - No powered EQ, artificial processing or colored sound that pollutes the audio and causes unacceptable latency for videos, gaming and DJ/music performance
Auto Analog Switch - Plug a cable in the jack to automatically switch off all battery and electronics to turn your Bluetooth headphones into a "zero latency" weapon for the win
Go the Distance - Pair your Bluetooth device and enjoy your headphones up to 30 feet (10 meters)
Simultaneous Device Pairing - Multitasking users can pair the headphones with two sources at a time, such as a smartphone and laptop for work or a smartphone and smartwatch for working out
15% Longer Battery - Bigger battery provides up to 14+ hours of music, unlimited hours in wired analog mode
STYLE AND VERSATILITY
"Make you look and feel cool... turn your commute into a late-night out"
 -Business Insider
Luxurious New Colors - Find your favorite between our fan-favorite Matte Black, brand new Matte White and posh Rose Gold
"Mind the Gap" - Patented sleek design frames the natural lines of your facial features and minimizes unsightly gap
Optional Custom Shield Kits - 3D print or laser engrave your logo, change your shield material and color
Versatile Cables, Gaming, Cushion & Accessory Ecosystem - Extend your functionality with the BoomPro Mic for gaming and communication, XL Memory Cushions for extra comfort and a variety of cables to add versatility to your Bluetooth headphones
REMIX VAMP Compatible - Perfectly tuned to match the newly released REMIX® headphone amplifier built-in to the Bluetooth speaker
Console, PC Gaming and Musician Compatible - Works perfectly with Xbox One, PS4 controllers, professional music equipment and all low-latency sources
DURABILITY: BUILT to LAST
Virtually Indestructible SteelFlex Headband made in durable vegan leather
Steel Frame
Military-Level MIL-STD-810G Test Standards Durability
Durable Cable/Plug Bend - Cables and 45-degree plug can bend over 1 million times (100x industry standard)
Headband Bend - SteelFlex can bend 10+ times flat
Environmental - High and low temperatures, humidity, salt spray and UV exposure
CLIQFOLD PORTABILITY AND EXOSKELETON CASE
"Folds to the smallest size of any over-the-ear headphone I've ever reviewed."
-Techhive
Patented CliqFold Hinge - Luxury lighter-like hinge mechanism precisely folds the headphones into impossibly small exoskeleton case (patent pending)
V-PORT Vents - New ventilation system for air circulation after use on stage or working out
Exoskeleton V-STRAP - Organize cables (including the V-Micro USB cable) via the V-STRAP system with extra room for your USB Drive & Faders earplugs
Carabiner Clip - Secure your case on the outside of your bag for quick access
 
MAKE the CALL . SUMMON Your voice ASSISTANT
Built-In Wireless Mic and Controls - Discrete volume, multifunction controls and hidden mic allows for calls and easy access to voice assistants in Bluetooth mode
Detachable SpeakEasy™ Mic Cable - Specially tuned for voice recognition and calls in the noisiest environments
V-Micro USB Cable 
Optional BoomPro™, SharePlay™, 3-button SpeakEasy™ Mic&Remote - Extend your functionality with a professional-grade boom mic for gaming and Skype or a 3-Button cable compatible with any Apple products   
TECHNICAL DETAILS
What's Included?

Crossfade 2 Wireless
Exoskeleton carry case and 2 V-PORT Vents
Carabiner clip
Reinforced 1-Button SpeakEasy™ Microphone cable
Elegant V-Micro USB Cable
Gold plated 1/4" Pro Adapter
V-MODA sticker

Type - Over-Ear Circumaural Bluetooth
Drivers - 50mm Dual-Diaphragm (patent pending)
Frequency Response Wired - 5 - 40,000Hz
Headphone Sensitivity - 100 dB @ 1kHz 1mW
Microphone Sensitivity - -42dB @ 1kHz
Impedance - 32 Ω
Weight - 309g (with standard aluminum shields)
Battery Capacity - 430mAh (up to 14+ hours music playback)
Cable - 1-Button Reinforced SpeakEasy™ Microphone 3.5mm cable

SIX STAR SATISFACTION GUARANTEED
One-Year Warranty - Immortal Life Program - 60-Day Test Drive Guarantee: Each Crossfade 2 Wireless purchased from a Verified Reseller is backed by a 1-Year V-MODA Premier Warranty, more than double the industry average. In the unlikely event you run over your headphones with a tank, with the V-MODA Immortal Life Program, you get 50% off a replacement for a lifetime. V-MODA is so confident the Crossfade 2 Wireless is a superior headphone, it even offers an unrivaled 60-Day test drive guarantee. 25% restocking fee for 3D custom models.